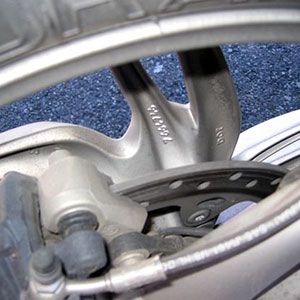 During our recent motorcycling holiday to Norway, my six week old BMW suffered a significant & terminal mechanical failure at the most inopportune time & place.
On day 8 of the holiday we arrived at our overnight stop near Kamoyvaer, having travelled 240 miles that day via Nordkapp, the North Cape of Norway.
It was a truly great day on the motorcycle which has run perfectly since leaving home.
Our overnight hotel was comfortable but not plush, very Scandinavian and a nice place to stop for the night.
This marked the halfway point in the tour, the most northerly point in Norway was also where we turned south for the meander back to Bergen & the ferry home.
After breakfast, as is my habit, I walked around my motorcycle, checked the oil, made sure all luggage was secure and ready to set off within half an hour or so. My last act, also a habit, was to kick the tyres, front & rear.
There is no known diagnostic skill involved in this activity but on this occasion it revealed that the rear wheel was loose. So I kicked it again and discovered that it was still, definitely loose. I checked the four bolts securing the wheel to the hub & all appeared tight. Then I removed the luggage to get a proper look and it became obvious that the differential inside the final drive housing was itself damaged/loose.
The lateral movement in the wheel was sufficient for the tyre to move as far as the exhaust on one side and the swing-arm on the other.
When launching this totally new model earlier in 2004 BMW made much of the fact that 25kgs had been shaved from the overall weight, compared with it's predecessor the BMW R1150GS. To achieve this, lighter, thinner materials had clearly been used in various places and it was clear to see that the final drive housing was much smaller/lighter.
I knew enough about motorcycles & BMW's in particular to know that our motorcycling holiday was over as far as using this particular motorcycle was concerned. I briefed our travelling companions & made my first call to BMW Assistance. I knew that the nearest BMW Motorrad dealership was in Tromso, some 350 miles to the south.
The next hour or so was taken up with numerous calls between myself, BMW Assistance & John Clark BMW in Dundee, the supplying dealer.
Recovery was on it's way from Honningsvag who were also arranging a replacement vehicle, paid for by BMW.
Meanwhile the decision was made for our friends to continue with the planned tour route. I had pre-booked all the hotels in advance & Peter had the route details in his GPS. We planned to catch up with them at the hotel that night.
After waving them on their way, we were told that there are no major vehicle rental companies in this part of the world & although BMW Assistance had agreed to provide a hire car for the remainder of our holiday, in the first instance we would be given a Transit mini-bus by the recovery company to get us as far as Alta where a hire car would be waiting for us. In due course we would have to swap cars once more before getting to Bergen.
I took loads of photographs of my BMW before it was taken away by trailer, mainly to keep a record of it's condition as it left me. All luggage, GPS and other accessories were removed as I had the distinct feeling that was the last I would see of my once beloved BMW.
I was told that the 'bike was to be transported back to my dealer in Dundee for examination and repair rather that the dealer in Tromso. Later I learned that once in Dundee, BMW asked for it to be transported, without any repair, back to the BMW factory in Berlin for detailed analysis.
Apparently there had been several similar failures already in this model's life and BMW needed to find out why.
Eventually we left the hotel around mid-day & given that Alta was over 125 miles away on slow single carriageway roads it was fairly obvious that we would not be catching up with the others that night. That night's hotel was another 120 miles & a ferry crossing beyond Alta.
We made some progress south, stopping to take calls from BMW Assistance & John Clark BMW.
BMW paid for us to stay in a hotel in Alta that night, after collecting the hire car. It was actually a very nice hotel in the centre of the town & BMW even paid for our evening meal & drinks. I think I had conveyed how disappointed I was with the 'bike and the fact that this holiday of a lifetime had been totally ruined (I certainly laid it on a bit thick!).
The following day we continued to the next night's planned stop & met up with the others once again. From now on we continued with the planned holiday, different only in that we were in a car and Peter/Pauline were on a motorcycle. It was impractical to travel in convoy so we met up at lunchtimes and of course every evening.
We had to board the ferry in Bergen as foot passengers, carrying a load of heavy luggage and a recently acquired holdall containing the redundant motorcycle clothing, helmets & boots. Much more than two people can carry.
You can imagine the strange looks we got from the ferry check-in staff & ferry crew when we presented ourselves for boarding with two courtesy wheelchairs laden with our luggage, that we found unattended in the terminal building. There were several more so I don't think any genuinely disabled persons were inconvenienced.
Once the ferry arrived in Newcastle we were met by a car hire representative who gave us the keys to the smallest car I've ever seen, barely bigger than a motor cycle and only just spacious enough to get two persons and all our luggage in.
The drive back to Edinburgh was uneventful and we were greeted by another call from John Clark BMW in Dundee who happily informed me that BMW were going to supply me with a brand new BMW R1200GS in lieu of the broken one. That was very fair, I thought, and it would be with me in a week, thereby circumventing the 6-8 week waiting list.
You'd be forgiven for thinking that I would be happy with all this & the manner in which BMW Assistance handled the whole affair from start to finish.
And you would be wrong. I was very grateful for all that had happened from that very first call to BMW Assistance in Norway, but I still felt let down overall by the 'bike and having to complete a once in a lifetime motorcycling holiday in a van & two cars.
I had a lengthy email correspondence with a senior customer service agent at BMW GB and after much haggling we attempted to put a value on the spoiled element of the holiday in order that BMW could compensate us. To be fair, the only additional costs incurred over & above completing the holiday by motorcycle was extra fuel for the hire vehicles and the purchase of the holdall in Alta for all the 'biking gear.
Eventually we shook hands at £750.00 as a goodwill payment by BMW GB in lieu of the spoiled element of our holiday. They were determined not to call it 'compensation' but given that it represented about 25% of our total holiday costs it was gratefully received.
BMW R1200GS #1 is no more, long live BMW R1200GS #2.