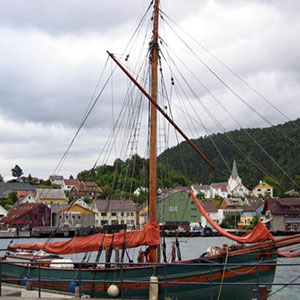 4th-21st July.
This trip had been in the planning stages for the two years since my last visit in the autumn of 2002.
On that occasion I had to turn around at the Arctic Circle as snow on the road north prevented me getting to my planned destination, Nordkapp, (The North Cape of Norway).
This year four of us went, on two almost new BMW R1200GS motorcycles,
Mine was only about six weeks old when we left Edinburgh, with just 1337 miles on the odometer and the 1000 mile break-in service completed.
More than ever the 366 photographs & route maps tell the story of a truly fabulous trip, unfortunately marred by a total mechanical failure of my BMW. More about that in another post.
Living in Scotland spoils you when it comes to breathtaking scenery, but I think Norway exceeds this on just about every level.
As well as fabulous motorcycling roads and the most stunning landscape, it's obvious the Norwegians go to great lengths to preserve nature and minimise the evidence of humans. Away from cities & towns this country is almost completely unspoiled.
Before catching the very old ferry 'Jupiter' back to the UK we spent a couple of nights in Bergen, not far from the ferry terminal.
We reflected on the trip we had just been on and decided that the failure of the motorcycle, although significant, only put a small negative dent in our 17 day holiday rather than totally destroy the numerous positive experiences.
Thank you Norway, we will return.