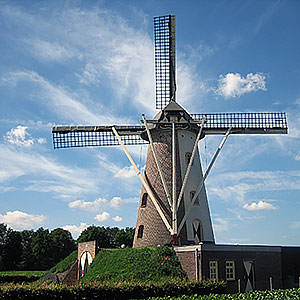 I'm fascinated by the extensive Dutch canal network.
As luck would have it we have a large & busy canal passing by Weert.
This morning's 35.7 km cycle route went along the northern bank of the Zuid-Willems Vaart canal as far as Lozen (Belgium) & then back along the southern bank, through Weert to the lock gates at Nederweert, before returning home.
I first came across the barge 'Jojeria' near Lozen & again as it waited to enter the lock approaching Weert. To my surprise, some time later I saw the same barge leave the lock at Nederweert, some 15 km from the first sighting.
During this distance it had to negotiate two locks & two opening road bridges. Seems these barges progress at roughly the same speed as a tired cyclist!
Meandering through the lanes back from Nederweert, I came across a very well kept windmill near Schoor, which, unfortunately, was closed for viewing inside.