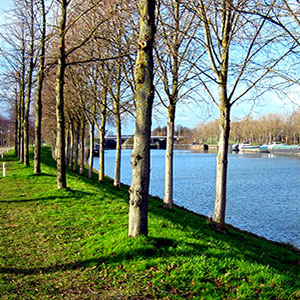 Yesterday I cycled 66.5 km, in three different countries!
Heading from my home in the Netherlands it's only 8 km to the Belgian border just south of Stramproy.
My destination was Germany, the closest border being 29 km from home and the westernmost point of Germany.
In changeable weather conditions I made good progress through Maaseik (Belgium) and Susteren (Netherlands), continuing south until I came to the visitor centre marking the border between the Netherlands and Germany.
This is also the narrowest part of the Netherlands, with Belgium and Germany separated by just 4.8 km.
Despite the signage being only in German & Dutch I learned a little of the history of this area including the fact that this whole area was disputed territory between the Dutch and Germans, with 'ownership' changing hands several times. Finally, in 1963, it was agreed that this piece of land was German and the alignment of borders concluded.
After photographs and a banana it was time to head homewards via Brachterbeek & Wessem.
Approaching Brachterbeek I came across a memorial to Eric Harden, VC, a British soldier, who fell at this spot in WW2. He is buried in the CWGC cemetery at Nederweert, not far from home, which I visited on one of my early cycle rides in May 2019.
My favoured route home from Wessem, along the canal path, was blocked at Santfort, the signs telling me that the road is closed because of the activities of beavers burrowing.
Changing direction I cycled home via Ittervoort, Hunsel and Swartbroek under increasingly dark skies. Just when I thought I'd arrive home dry, the rain started and the last few km were enough to give me a good soaking.
Today's ride was quite challenging, due to the very changeable weather conditions, strong headwinds in places plus a large number of long climbs over motorway, river and canal bridges in this otherwise perfectly flat landscape.
Today's ride counts towards my Cycling Down Dementia target and I now have only 130 km to cycle before the end of January.