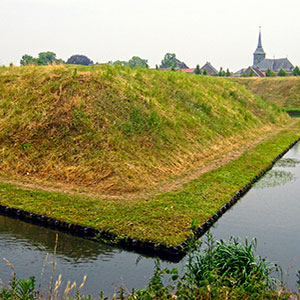 My 66 km cycle ride today took me to the ancient village of Stevensweert, on a large island in the river Maas to the south of Maasbracht and close to the border with Belgium.
Access to the island is via several road bridges and a couple of pedestrian/cycle ferries, which unfortunately are not operating at the moment due to the Covid-19 pandemic restrictions. Hopefully they will be sailing again soon as they help to avoid much longer journeys by road.
Stevensweert was originally established in the middle ages and subsequently the Spanish built fortifications around the settlement during the '80 Years War', also known as the 'Dutch War of Independence', (1568-1648).
Essentially this was a conflict between Spanish/Portuguese armies and Dutch/English/Scots/French forces seeking to liberate territories which eventually became the Netherlands, Belgium & Luxembourg.
This is a very picturesque village with cobbled streets with many older buildings and much of the fort still remains, having been preserved and restored in more recent times.
Moving on, I came across extensive vineyards on the banks of the Maas, not so far from Maaseik in Belgium, belonging to 'Wijndomain Aldeneyck'. I had no idea Belgium has a substantial wine industry but it would be great to give this a try sometime.
As I continued my ride along the Maas, the weather improved, the rain stopped and not far from home the sun finally made an appearance.