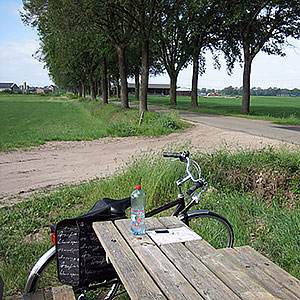 On today's 39.6 km cycle ride to the north & east of Weert, I came across the confluence of four canals near Nederweert.
To be precise, two branches of Zuid-Willemsvaart meet Noorder Vaart & Kanaal Wessem-Nederweert.
This area was the scene of much fighting between allied forces & the Germans as the allies liberated the Netherlands and drove the enemy back towards Germany.
I really enjoy cycling around here, the flat terrain has it's advantages & there are so many interesting things to see.
Later in the morning I stopped for a while at one of the many 'rest benches', not so far from Ospel.