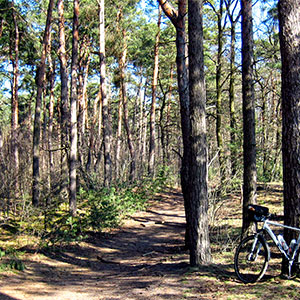 Today's 35 km cycle ride was essentially a circuit around the perimeter of Heerlen, with a small detour away to the west.
It was another gloriously sunny day but temperatures struggled to get above 5c degrees.
Most of the ride was on rural lanes and dedicated cycle paths.
The highlight for me was a two kilometre MTB (Mountan Bike) track through woodlands.
This well-worn route is along the southernmost edge of Brunssummerheide near the small hamlet of Heihoven.
I paused midway for refreshments overlooking the large white sand excavations, looking impressive under the midday sun.