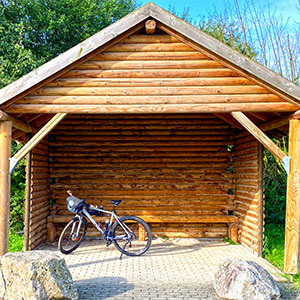 This morning's 72 km cycle ride took me generally east of Heerlen and almost entirely within Germany.
The strong south westerly winds were behind me for much of the outward journey but right in my face for the return journey, just when tired legs could do with a little assistance.
Today's featured image is from the hamlet of Barmen where I paused for breakfast.
On the return journey I came across a closed country lane, due to recent heavy rainfall.
The sign said pedestrians could use the adjacent cornfield to bypass the flood.
So I pushed the bike the 75 metres or so to avoid the flooded lane but soon realised the field was waterlogged too. As a result the bike is filthy again and I had muddy water well above my ankles.