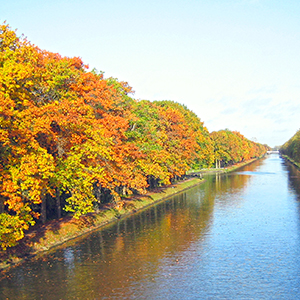 Yesterday's 81 km cycle ride was the longest since I became a 'Born Again Cyclist' in April this year. It was also one of the most interesting & diverse.
The day started well as bright sunny weather returned after a few days of miserable cold, wet & windy weather here in Limburg.
As I took a photo of Weert from our balcony I somehow overlooked the fact that rain was forecast for later in the day.
I had planned a route in advance because I wanted to experience the amazing Fietsen door de Bomen (Cycling Through The Trees) in Bosland Forest in Belgium.
Opened earlier this year, this is essentially a 100 metre diameter rising spiral cycle track, elevating cyclists up to a height of 10 metres into the tree canopy.
It also represented the longest, steepest incline I have experienced in the otherwise flat landscape of the Netherlands and this part of Belgium.
Photos duly taken I continued to my next stop, the Lommel German Military Cemetery. This huge site contains 39102 German soldiers mainly from WW2, with 542 from WW1.
By now it's started raining lightly….just a few spots in the increasing wind, so I move on to my next destination, the Polish Military Cemetery at Lommel.
The route here was somewhat indirect as I had to circumnavigate the massive Ford Lommel Proving Ground, which is well shielded from inquisitive cyclists by trees & razor wire fences. I did, however, hear much activity which I took to be Ford cars being tested to destruction.
While I'm sheltering from the rain in a tent shaped structure on the banks of the Bocholt-Herentals canal at Neerpelt, a barge glides past with the freshly painted sign on the side: 'Solidair Met De Boer!' (Solidarity with the Farmers). Dutch farmers are currently making themselves heard with a well organised protest in The Hague & elsewhere.
It's now raining a little harder as I begin the journey home and after about 57 km of mainly dry cycling I'm forced to stop to put waterproofs on for the remainder of the trip.
This was a really great day out on the bike and reminded me that cycling in torrential rain isn't so bad, after all.
As usual many photos were taken, a wet autumn certainly reveals some fabulous colours.