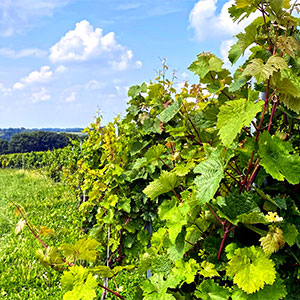 Today's 55 km cycle ride was a little different to my normal routine.
I combined two previously planned routes to make single route which started and finished in Heerlen.
The first part headed east into Germany and back again.
The second half of the route went south east from Heerlen out into the hilly terrain of South Limburg.
Today I adopted a much more leisurely pace, stopping even more frequently for photographs or to simply sit amongst the rolling hills to take in the views.
Ascending the steep climb out of the Dutch hamlet of Fromberg I came across many hectares of vineyards.
I was riding part of a South Limburg 'Route des Vins' and these particular grapes were destined for the nearby Winery Fromberg. 
I must visit the winery at some point and sample the local wines.