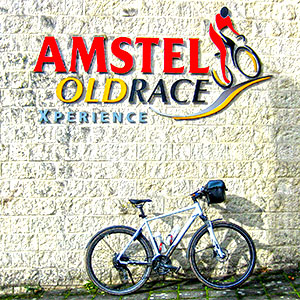 14 days without a cycle ride is way beyond my patience threshold.
Therefore my 56 km cycle ride today, in warm sunshine, was a very welcome release from the confines of apartment living during a global pandemic.
The snow has thawed, the minus 10 degree temperatures have been replaced by 11 degree warmth, with the promise of spring-like temperatures arriving in the coming week.
As is usual on my one day rides my route was a circuit through the German and Dutch countryside, starting and finishing in Heerlen.
There's no doubt that I'm not anywhere near my pre-winter fitness levels.
This was confirmed time and again today as I encountered many hills, long, short steep and shallow.
All with one thing in common: the ability to create additional resistance for my somewhat 'rusty' legs to overcome.
As I passed through the picturesque town of Valkenburg, in south Limburg, I paused at the 'Amstel Gold Race Xperience' in the centre of the town.
Covid regulations mean all such places are closed for the foreseeable future but I did manage to enjoy a beer in the sunshine here on a previous visit last year.
By the time I got home my whole body felt like I'd cycled at least twice as far but I'm very happy to be out and about on the bike again.
The fitness will return, I'm sure, as long as I don't overdo it on the next few rides.