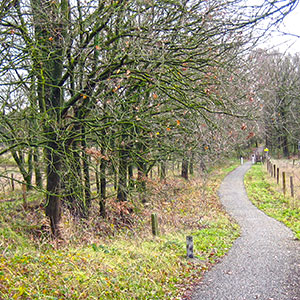 Freezing fog, zero visibility, torrential rain & gale force winds, here in Limburg, have all conspired to deter me from recreational cycling for the past two weeks.
I don't mind getting a little chilly or wet, but the awful weather recently really isn't conducive to safely cycling any distance.
Anyway, today's cycle ride took me along the canal once more, right into a brisk headwind before I found respite on the now familiar local forest tracks.
Over a third of today's 30.3 km ride was along deserted forest cycle paths.
Most of the leaves have fallen now & there's not so much colour about. Overcast skies make everything seem a little dull, but as always, I enjoy the peace & quiet of the forests.
Once I reached Stramproy, I turned northwards for home, with a nice strong tail-wind helping to improve my average speed for the day.
This weekend marks the halfway point in the three month Cycling Down Dementia campaign, with another six weeks remaining for me to reach my 1000 km target, before 31st January 2020. Just another 421 km to go!
We had snow here in January this year so I really need to make the most of every opportunity to get out on the bike in the next few weeks.