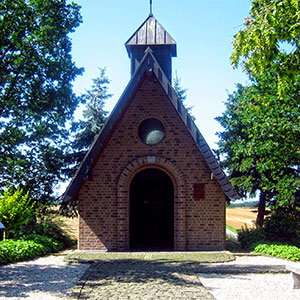 The first cycle ride in 16 days was a nice 52 km trip up to Gillrath in Germany, to the north of Heerlen.
In the past week severe rainfall has affected several areas of Germany, Belgium and the Netherlands.
This resulted in significant loss of life with extensive damage to property.
Cycling through the German countryside today there was little evidence of this week's storms.
Today's featured image is a modern chapel, Kapelle Maria am Wege, on raised ground to the north of Gillrath.
In the town itself I came across a local railway preservation group who were operating a small steam train on a local route.