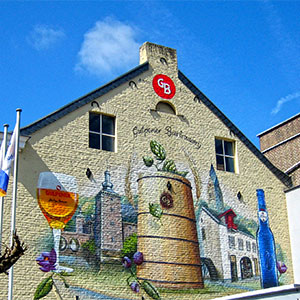 What a gorgeous spring day to enjoy a 50 km ride through South Limburg to the west of Heerlen.
Although a little chilly to start with, it soon warmed to around 15c once the sun appeared.
The majority of today's ride was on deserted country lanes, briefly over the border in Germany, the remainder in the Netherlands.
Today's featured image is the end wall of the Gulpener Bierbrouwerij in the main street of Gulpen.
As Gulpen marked the halfway point in today's ride, I paused by the impressive church for refreshments before continuing on my way.
Plenty of hills once again today but they certainly seem to be getting a little easier with each ride.
It's very satisfying to see my fitness levels improving as it means some longer rides in the future, to explore further afield.