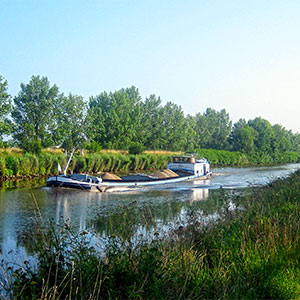 Today's 74 km cycle ride took me to the west of Heerlen and alongside the Julianakanaal.
This is a 36 km long canal running generally north from Maastricht to Maasbracht.
It's course is almost dead straight and runs close to the river Maas which is particularly twisty in this area. The river here is no longer navigable for commercial shipping.
I left home just after 0630 in order to finish my ride before it became too hot and cycled alongside the canal for a total of 18 km.
There was much evidence of the recent devastating floods in this area, but the water has now returned to normal levels.