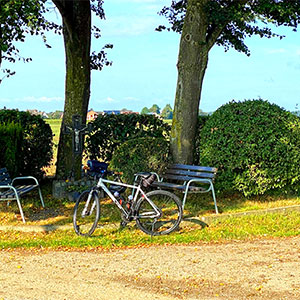 Thursday's 101 km cycle ride was another cross-border excursion into Germany, to the north of Heerlen.
This was the second 100 km plus ride of the month.
I planned the route deliberately to avoid roads as much as possible, preferring the peace and quiet of the dedicated cycle tracks.
Wherever I go in the Netherlands as well as Germany and Belgium I often come across somewhere nice to stop for a break or refreshments.
Today was no exception and today's featured image is of one such stop near the German hamlet of Havert, about 44 km into the ride.
Also included in today's photographs is a nice sequence of sunset images over Heerlen, taken over a 16 minute period.