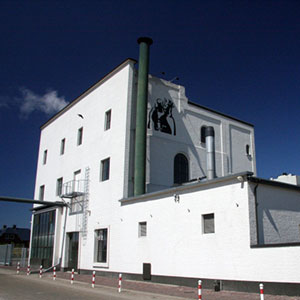 Yesterday, as guests of Stienen BE in Nederweert, Sanne & I along with around 50 colleagues were taken to Arcen for a tour of the Hertog Jan Brouwerij.
Over the years I've visited dozens of breweries, wineries & distilleries all over Europe but I found this small 'craft' brewery particularly interesting.
Here, the brewery tour guide only spoke in Dutch so I had to rely on Sanne translating the highlights for me.
The initial stages of the brewing process are basically the same as everywhere else I've been to but the later stages are quite interesting and maybe even unique.
On earlier distillery tours I'd seen that malt whisky is aged in previously used oak barrels for many years, taking on the colour & flavours from bourbon, brandy, red wine etc but I've never  seen this technique used with beer before. At Hertog Jan brewery they do exactly the same with some of their beers.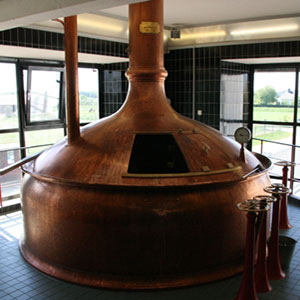 Laid up in the cellars are hundreds of very old oak casks that have been previously used to age various wines & spirits but are now used to age beer.
Some of their beers are matured for many years before being bottled & laid up once more before sale.
The result is dark, flavoursome and strong in alcohol content. Of course we were given the opportunity to sample various Hertog Jan beers both at the brewery and at their very own pub across the road.
Conveniently the brewery & the pub are connected by a large overhead copper pipe, ensuring that the pub never runs out of beer!.
We sat out in the large rear garden for an hour or so, while we waited for our tour to begin and I sampled some wheat beer, characterised by it's cloudy appearance and very strong taste. I wouldn't want to be drinking too many of those.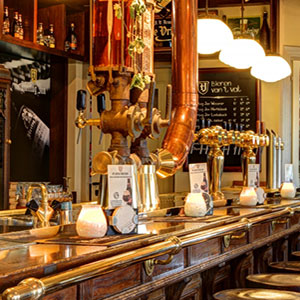 The tour took an hour or so, after which we went back to the pub & drank some more beer before getting back on the coach for the next phase of the afternoon's activities.
Half an hour later we arrived at The Scelta Institute, at Venlo, headquarters of Scelta Mushrooms which apparently is one of the largest mushroom producers in the world. Sainsbury's, Tesco & Lidl are just some of the supermarkets supplied by Scelta.
As we walked into this impressive building, we were welcomed with a large glass of Champagne & orange juice. On top of the beer I've already drunk, it went straight to my head, especially as I don't drink very much at all these days.
Fortunately for me the introductory talk was accompanied by a slide show with English text, so I had a fair idea what the son of the founder was talking about.
We were to spend the rest of the evening here, having some great food (including various mushroom appetisers), more beer and a rather loud disco which had many up dancing enthusiastically, while the rest of us sat & watched.
It seems that Steinen BE treat their employees, partners & guests to such days out every year. It was certainly great fun being part of this yesterday and enjoying their hospitality.
I managed to sleep most of the way back to Nederweert in the coach but was wide awake & almost sober again after a chilly 5 km cycle ride home to Weert. It's been a long time since I've ridden my bicycle in the dark and even longer since doing so when slightly squiffy!
Below is a photo of about half the group as we toured the brewery. I'm far left, crouching to avoid obscuring the people behind & Sanne is third from the left at the front, standing full height!