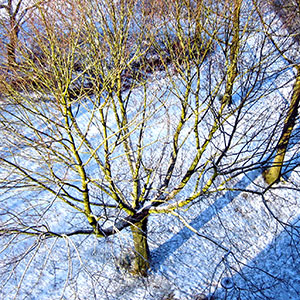 The Netherlands is in the grip of an extreme cold spell resulting from Storm Darcy which has swept across much of Europe this week.
There has been heavy snowfall in northern and central areas and record sub-zero temperatures everywhere.
Road, air and rail travel have been severely disrupted and for a while red weather warnings were in force nationwide.
Here in South Limburg the snow has been relatively light but with several days of very low temperatures now, it shows little sign of thawing.
The outdoor thermometer indicated minus nine degrees celsius at breakfast time this morning, but wind-chill makes it feel so much colder.
The roads and some cycle paths have been treated with salt but as long as it remains so cold I shall not be venturing out on the bike.
The 14 day weather forecast suggests a gradual increase in daytime temperatures along with dry conditions. Maybe enough for me to cycle this coming weekend.
The photos were taken from my 8th floor apartment this morning.