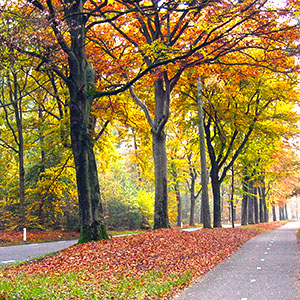 On this day, 17th November, 75 years ago, the Leudal area of Limburg was liberated from German occupation by Allied forces.
To commemorate this historic occasion 'Liberators 1944' organised a military vehicle convoy around the Leudal area, setting off from Heythuysen at 10am.
It was absolutely freezing cold when I left home at around 8.30am.
Despite multiple layers of clothing I really began to question my sanity as I cycled away from Weert, surrounded by thick white frost on cars and verges.
Once I got into my rhythm I soon warmed up and made good time to Heythuysen, even though I took the scenic route along the canal and through woodlands.
At the Leudal municipal buildings I saw about 50 assorted military vehicles assembled, together with dozens of enthusiasts dressed in WW2 uniforms to match the vehicles.
There were even two Scottish pipers adding to the atmosphere, significant as many Scottish regiments were heavily involved in the liberation of the Netherlands.
As I was a little ahead of time & aware of the route the military convoy would be taking, I continued on my way for a few more kilometres until I reached a road junction which would provide a good vantage point.
Nearby is the Leudal Monument of Tolerance, along with many wreaths from Armistice Day.
Before long the noise of the WW2 vehicle convoy could be heard coming through the forest.
An interesting collection of vehicles, mostly American, rumbled past in a few minutes and I was happy to get on my way, to warm up again!
Cycling along the numbered cycle tracks, mostly on woodland paths, I found the Noorder Vaart canal back to Nederweert and homewards.
An enjoyable cycle ride, but so very cold, the temperature didn't rise very much as the sun stayed shrouded in mist for much of the ride.
Today's 50.4 km cycle ride counts towards my 1000 km target for Cycling Down Dementia.
In just three weeks I have cycled over one third of my target, very satisfying, especially as the weather may be much worse in December & January.