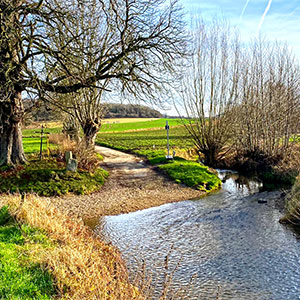 I haven't ridden my cycle since 28th October, mainly because of the continuous extreme weather conditions.
However I have pedalled the equivalent of 1002 kilometres between then and now on my indoor spin bike.
This means that I've maintained a good level of fitness in readiness for my road cycling year ahead.
Despite staying awake to see in the New Year last night, I was determined to make the most of the weather forecast and get out on the bike on the first day of the year.
Today's 46 km ride was generally to the west and south of Heerlen.
It didn't take long for warm sunshine and blue skies to appear to make a thoroughly enjoyable cycle ride.
Today's featured image is of a ford in the South Limburg hamlet of Mamelis.
It certainly looked too deep to cycle though but fortunately there was a cycle track to one side so I kept my feet dry.