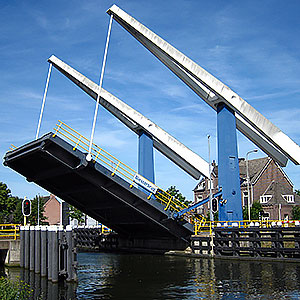 Took a short 17.5 km ride out this morning along the banks of the local canal (again!).
It always seems to be quite busy & today I followed the progress of a sand barge under Stadsbrug at Weert, all the way to sluis 16 (lock) at Boshoven.
As the barge cleared the lock, a small Belgian cruiser entered, heading the other way.
I cycled back along the track on the canal bank, which in places is little more than a rough track, and the Belgian cruiser soon caught up with me at Nederweert, having negotiated Stadsbrug & Biesterbrug, also in Weert.
Finally the cruiser went through sluis 15 at Nederweert & headed south towards the River Maas.
The canal which runs to the north & west of Weert is called the Zuid-Willemsvaart.
Like all these things, I wanted to know a bit more about it, so a little history lesson:
" The Zuid-Willemsvaart  (South William's Canal) is a canal in the south of the Netherlands and the east of Belgium. It provides a shortcut in the river Maas between the cities of Maastricht and 's-Hertogenbosch.
The canal was named after King William I of the Netherlands, with "South" added to avoid confusion with two other canals commissioned by and named after the King: the Willemskanaal near Zwolle and the Noord-Willemskanaal in the province of Groningen.
King William ordered the planning of the canal, and construction started in 1823. The canal was completed in 1826 and named for the king. The 123 km-long canal runs through the Belgian province of Limburg, the Dutch province of Limburg and, for the largest part, through the Dutch province of North Brabant. At the time of the canal's construction, all of these regions were part of the United Kingdom of the Netherlands (1815–1830/39).
The canal created new possibilities for development of the poor towns on the sandy grounds of North Brabant, such as Helmond and Veghel and created an alternative trade route for ships that did not want to sail the Maas.
Nowadays the canal is being enlarged to make more room for ships with higher tonnage and therefore the development of larger industries."