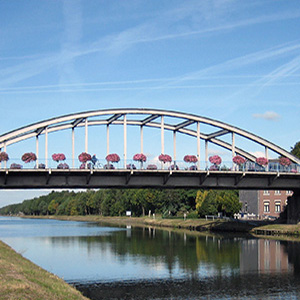 In a woodland clearing a few kilometres south of the Dutch town of Valkenswaard lies a Commonwealth War Graves cemetery of the same name.
Here lie 215 British soldiers & two British airmen, largely involved in 'Operation Market Garden'. 
Valkenswaard itself was liberated from German occupation on 17th September 1944, so a 75th anniversary commemoration was held here two days ago, hence the large number of wreaths & personal messages on many of the individual graves.
From here I headed south for another 5 km or so, into Belgium, until I reached the Bocholt–Herentals canal to ride along the canal bank back towards Lozen & home.
At Sint-Huibrechts-Lille I came across a memorial to the soldiers of the 2nd British Army, who, as part of 'Market Garden', liberated this small Belgian village on 19th September 1944, exactly  75 years ago today.
It's very moving & gratifying to see so many of these memorials scattered throughout the area, the Dutch people simply saying 'Thank-You'….
64.7 km cycled today.