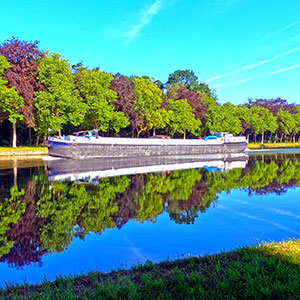 Apart from the first 10 km, today's 108 km cycle ride was entirely along canal cycle paths or river banks in Belgium and the Netherlands.
The inland waterways of Belgium and the Netherlands are fascinating to me.
This large network of canals and rivers is extensively used by commercial vessels.
Today's featured image is of an unladen barge on the canal near Neeroteren, Belgium.
Later in my journey I suffered not one but two front wheel punctures some 50 km apart.
The first had no obvious cause but the second revealed a small shard of glass through the tyre tread.
Both were quickly fixed at the roadside as I always carry a repair kit.