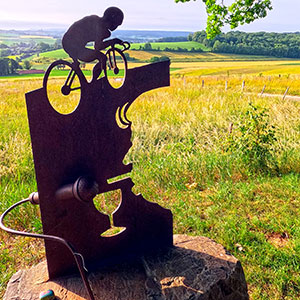 My Sunday cycle ride was a demanding 58 km loop through the hills of South Limburg.
Although I've cycled this area many times in the past I still managed to discover a few new roads today, most of them steep ascents!
In the past few days we've had something of a heatwave here in Heerlen with temperatures reaching 40c yesterday afternoon.
This is definitely not ideal cycling weather.
I was relieved to leave home early this morning with it somewhat cooler at around 20c.
Today's featured image is from the top of Gulperberg, near Gulpen.
The steel monument is for the Dutch cycling commentator, Jan Nelisson, who died in 2010.