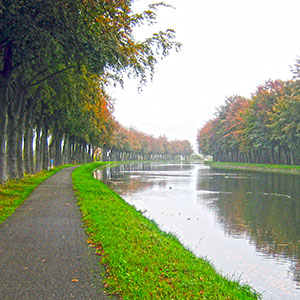 Canals are a very common feature here in the Netherlands & neighbouring Belgium so today I thought I would make a round trip from Weert completely along canal banks.
All went well until I encountered a locked factory gate in my way, which wasn't signposted and meant I had to return a few km in order to cross the canal to continue on the other side.
A second navigational error happened as I approached Masseik in Belgium and turned right instead of left which added more km to the planned ride.
The upside of the extra distance is that I found a scenic route along the banks of the River Maas that I'd not ridden before.
Rain was forecast but stayed away for most of the trip and although I experienced challenging rough tracks in places, this was a very satisfying cycle ride.
Today's completed ride distance of 83.6 km was the furthest I've ridden in a single day since I started cycling again in April and counts towards my 1000 km target for Cycling Down Dementia. Just 858 km to go!