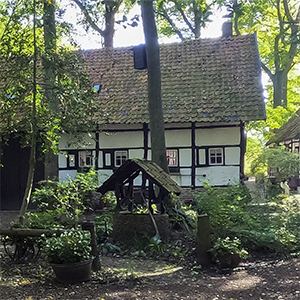 Nonke Buusjke is an open air museum, recreating a typical Limburg rural community from around 1900.
It is also a 'living museum' with volunteers, dressed in period costumes, demonstrating how life would have been at that time.
It is located in the forest (Schinveldse Bossen) not far from Schinveld, to the north of Heerlen.
Today's 58 km cycle ride was a scenic loop through nearby Germany that took me past the museum.
I have cycled this way many times in the past.
Today I decided not to ignore the rustic wooden sign pointing to this collection of half-timbered buildings.
They are situated about 100 metres from the main forest track, but was closed to visitors for the winter.
I still managed to take a few photographs over the fence.
Overall this was a great morning out on the bike, autumn colours emerging everywhere under cloudless blue sky.