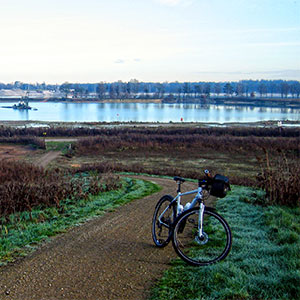 My cycle ride today was a gentle 19 km wander along canal banks and through local woodlands to the west of Weert.
I've not ridden my bike since 29th November, due to persistent sub-zero temperatures and an even more persistent stomach bug.
Part of the route was around the perimeter of Blauwe Meertje (Blue Lake), which is a summer recreation attraction on the site of a white sand extraction facility.
Even today, under cloudy skies, the water still had a definite blue colour.
Next to Blauwe Meertje is an area of raised ground which not only gave me a good view over the lake but also a very challenging ascent & descent.
Moving on through Kruispeel the track was frequently flooded or thick with heavy mud, which made riding very tricky to say the least.
More than once I had to shoulder the bike to walk around the obstacles and I was grateful to reach the paved canal road for the journey home.