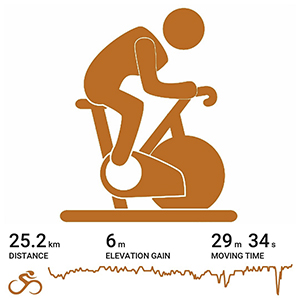 November saw the arrival of winter weather and therefore no outside cycling for me.
Just as I did last winter, I resorted to using my indoor spin bike simply to keep fit and ready for the resumption of outdoor cycling early next year.
I realised that I had incorrectly calibrated the Wahoo speed and cadence sensors on the spin bike last year, so my first task this month was to correctly calibrate things to more accurately mimic the outdoor cycling experience.
I also decided to limit the indoor sessions to 30 minutes rather than the full hour of previous sessions.
On 7th November I did two 30 minute sessions, several hours apart.
My best performance over 30 minutes was 25.2 km, which is very satisfying.
No doubt I will continue with this regime throughout the sub-zero temperatures predicted for December but am hopeful of an early excursion outside in 2023.