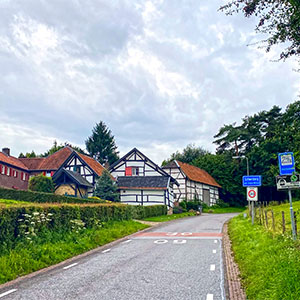 This morning's 61 km cycle ride is the 50th logged ride I've completed this year.
My route today was to the south and west of Heerlen through some of the most beautiful areas of South Limburg.
There are many long steep hills here, made more difficult today by some frequent, heavy rain showers.
The featured image is from the ancient Dutch hamlet of Schweiberg.
Here can be found 13 half-timbered houses dating from the 16th century, all of which are preserved as national monuments.
The group of buildings in the picture are near the start of a long steep ascent from Mechelen in the direction of Slenaken.
This climb is just over 5 km in length and rises 130 metres.
This is a great test of legs and lungs but I cycled every single metre today, without stopping.
From Slenaken I continued on a loop back home, through Sibbe, Schin op Geul and Termoors.
Here I deviated slightly from the planned route because I realised that I passed along the Termoors to Ubachsberg road last Sunday.
I really enjoyed today's ride even though it was quite tough in places and from tomorrow the weather forecast is much more favourable.