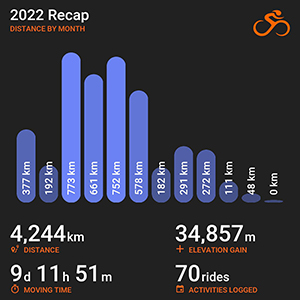 Twenty twenty two was something of a disappointing cycling year for me.
In January I set myself the simple objective of cycling 8000 km in 12 months.
I got off to a promising start with a nice 46 km ride on the first day of the year.
Of the 70 rides I completed this year, 14 were indoor 'Spinningfiets' sessions, leaving just 56 outdoor cycle rides.
This represents just half the number of outdoor rides compared to the previous year.
Of the 4244 km cycled this year 3340 km was in the first six months of the year.
Without doubt April was the best cycling month of the year.
This month I completed a great two day, 139 km ride to Rurberg, Germany which also had the greatest elevation gain of 2209 metres.
Also in April was my longest ride.
Three days and 211 km along the southern section of the Dutch coast proved to be a challenging and really satisfying cycle ride.
These were the highlights of an otherwise slightly boring year. I think it's fair to say that for the second half of the year I simply lacked motivation.
For the coming year I need to plan longer rides, more multi-day rides to new places and generally more outdoor cycling.
Therefore my cycling objectives for 2023 include at least 100 outdoor rides and an annual target of 7000 km.