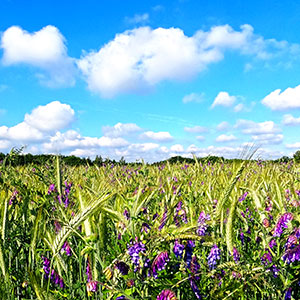 Today's 76 km cycle ride was a very enjoyable circuit including the Maas river and Hoge Kempen national park in nearby Belgium.
This is such a beautiful area to cycle through and it's always different.
Today was warm and sunny all day so there are quite a few nice photographs.
The featured image today is of a barley crop near the Belgian village of Opoeteren, enhanced by beautiful purple flowers.
About 55 km into the ride I acquired a rear wheel puncture, the first I've had in over 10000 km.
It was such a hot afternoon by now so I found a nice shaded spot in the middle of the forest to fix the puncture.
Fortunately I always carry a tube repair kit so within 30 minutes or so I was on my way again.