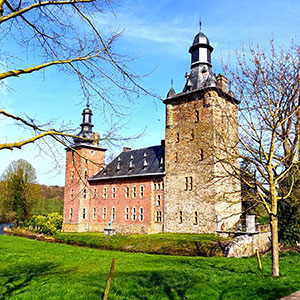 Today I cycled in three different countries on my 57 km ride in glorious spring sunshine.
Actually I passed in and out of the Netherlands, Germany and Belgium several times during the day.
This is due to the complexity of the national boundaries in this area.
As I expected my route today was extremely hilly.
This area has some of the longest, steepest hills imaginable.
Only last weekend the famous Amstel Gold Race included many of these challenging ascents.
I enjoyed the challenges today which were also ideal preparation for a much tougher ride I have planned for later this week.
Today's featured image is of Kasteel Beusdael near the Belgian village of Sippenaeken.