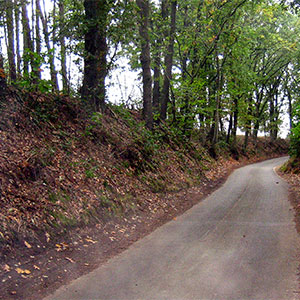 Today's rather chilly 100 km ride took me to the small Belgian town of Opitter.
Just to the west of the town I cycled around a recommended 10 km loop through some very hilly terrain on narrow country lanes.
Today's featured image is from Luytenstraat, the longest, steepest ascent where the road rises some 22 metres over a 600 metre distance, with the steepest section being 8.5%.
There were many other hills to climb & descend before I returned to Opitter where I paused for a while in the town square for refreshments.
Nowadays I have to carry whatever food and drink I need for the ride.
Covid-19 restrictions in both Belgium and the Netherlands mean coffee shops, cafes and bars are once again closed for the foreseeable future, so 'coffee and cake' stops are no longer possible.
Moving on from Opitter, I still have over 60 km of my planned route to get me back home to Weert. It gets a little warmer but I'm extremely happy to be wearing my new winter cycle clothing which does a great job of keeping me warm and dry.