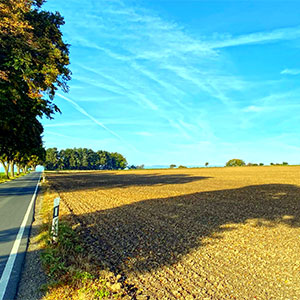 After 8 days off the bike I was keen to get out this morning for a quick 43 km circuit to the south of Heerlen.
Although it was sunny as I left home the temperature was only about 6c.
Even two pairs of gloves were insufficient to keep my hands warm.
Vigorous riding quickly warmed me up and good progress was made throughout the hilly route.
Today's featured image is before the 2 km ascent between Laurensberg and Orsbach in Germany.
I was back home before midday and really enjoyed this morning's brisk ride.
Not so many pictures today but it's nice to see the autumnal colours emerging in the countryside.