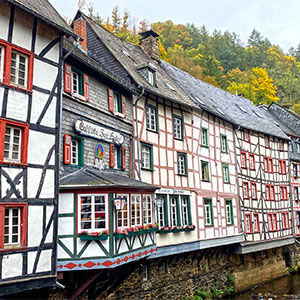 Monschau is a small German town with medieval origins, in the western state of Nordrhein-Westfalen.
To the east is the impressive Eifel National Park and to the west is the border with Belgium.
The centre of the town consists of many half-timbered buildings dating from the 18th century.
Wandering along the narrow, sometimes steep, cobbled streets is a great way to spend an afternoon, even when raining a little, as it was today.
I first came to Monschau in 1994, on my motorcycle.
I stayed two nights then in order to attend the Belgian grand prix at the nearby Spa-Francorchamps circuit.
Since then I've stayed here or passed through quite a few times and I'm always amazed by the beautiful old buildings and how little it has changed over the years.
I'm staying overnight this time in order to ride the Vennbahn cycle route tomorrow.
The afternoon was spent exploring once more and discovering unseen places from my previous visits.
This included stopping for beer and a nice meal next to the river Rur which meanders through the town.