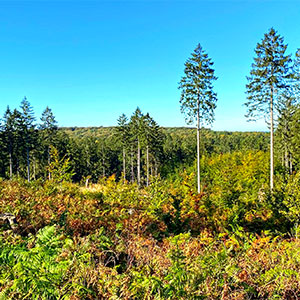 Friday's 68 km cycle ride started in the German town of Stolberg, some 25 km from Heerlen.
My aim today was to explore the Hurtgenwald, a large forested area at the northern edge of the Eifel hills region.
About 7 km into the ride I entered the forest near Vicht.
Here began a very tough 25 km of cycling along the rough gravel forest tracks.
It can be seen from the elevation profile below the steep inclines and descents I had to negotiate.
In places the inclines were so steep I had difficulty getting the back wheel to grip and make progress.
The steep descents also presented their own challenges.
The wheels didn't want to grip the loose gravel when I used the brakes, which made it extremely difficult to control the bike.
Although I always enjoy the challenge, I was greatly relieved that the bike and I emerged from the forest tracks in one piece.
The majority of today's pictures were taken in Hurtgenwald and give a good idea of just how picturesque and peaceful this area is.