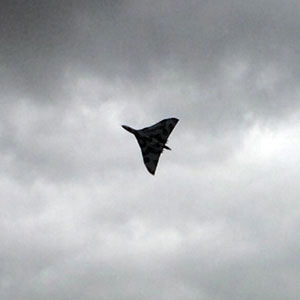 This was a truly great day for anyone vaguely interested in historic aviation.
As well as numerous static displays on the ground there was a full flying program.
Wonderful to see one of only two remaining WW2 Avro Lancaster bombers still flying & hearing the unmistakable roar of four Rolls-Royce Merlin engines as it flew low over the airfield.
Another treat was to see the last flying example of the Cold War Avro Vulcan bomber, swooping low over the airfield before climbing steeply, with four Rolls-Royce Olympus engines at full throttle.
Those of us viewing from the control tower area were given the 'hair dryer' treatment from the jet-wash of this mighty aircraft.
This was to be the last Shoreham Air Show because the Shoreham Air Disaster occurred the following year.
On 22 August 2015, a vintage Hawker Hunter jet aircraft crashed at the perimeter of the airfield during a flying display, the resulting ball of flames & explosion seen/heard for miles around.
11 men on the nearby main road were killed. The pilot survived, was prosecuted & acquitted.