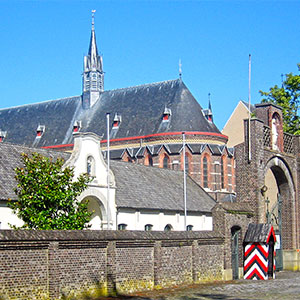 Today's 58 km cycle ride took me via the St Benedictus Abbey near Hamont-Achel in Belgium.
This is an extremely impressive series of buildings, home to an order of Trappist Monks together with a functioning brewery.
The whole estate is currently closed to the public because of Covid-19 but it was still possible to get views of the main buildings from outside the perimeter walls.
The majority of the estate lies in Belgium with part in the Netherlands, as indicated by a white line on the driveway to the main gate.
Also here is a reminder of 'De Doodendraad', a deadly electrified fence system erected along the entire border by the occupying German forces in 1916 to separate the hitherto 'neutral' Belgians from the 'free' Dutch people.
Heading homewards, I paused for refreshments alongside the local airfield at Budel where several powered hang-gliders were flying circuits. Really impressive at close quarters but difficult to photograph in the bright sunshine.