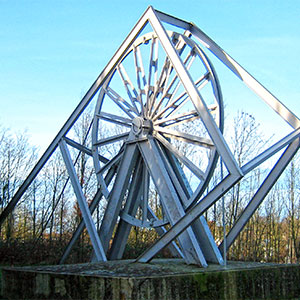 This morning I took advantage of a break in the stormy weather to take a 5.5 km cycle ride.
It might have been short in distance but the ride included a physically demanding 88 metre climb and a technically challenging descent of a nearby hill known as Wilhelminaberg. 
The man-made structure is a result of past coal mining activities.
Since mining ceased it been developed into a recreational destination for walkers, cyclists and winter sports enthusiasts.
Included are designated mountain bike trails all over the hillside, some of which I managed to ride today.
Wilhelminaberg is also the location of SnowWorld, a massive indoor 'real snow' winter sports complex.
My ascent was via an extremely steep, winding, paved path, with several photo stops (also known as my recovery pauses….!).
The steepest parts of this climb were over 11 degrees.
My reward, on such a clear morning, was a spectacular view over the countryside into nearby Germany and Belgium.
The descent was much more demanding, on very steep, narrow, unpaved mountain bike trails. The trail down was extremely steep, over 13 degrees in places.
This proved to be an extreme test of my fitness, bike-handling skills and nerve!
I'm relieved that I made it back down to decent paved paths without incident, injury or damage to my bike.
On the way back home I came across the old mine mortuary which is now a memorial chapel.
Outside there are stainless steel panels inscribed with the names of miners who perished in various mining accidents over the years.