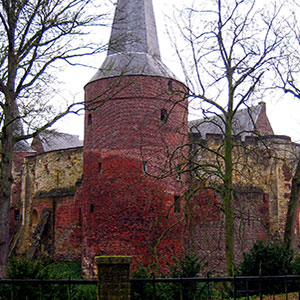 I decided to do a fairly long cycle ride yesterday, in order to reach my 1000 km target for the Cycling Down Dementia campaign, especially as much rain is forecast for the coming week.
It was still dark as I left Weert just after 8 am and I made good time heading towards Roermond.
A short detour took me via Kasteel Horn, a 13th century castle about 5 km from Roermond.
I then crossed the river Maas on the approach to the city and managed to negotiate the tangle of cycle paths & roadworks to find my route to my next destination, Venlo.
Continuing to make good progress I rode past the famous dragon at Beesel before stopping for the first banana of the day in the gardens in front of the town hall at Belfeld, not more than a couple of kilometres from the German border.
The sun is making an appearance now and I find the cycle track along the banks of the Maas to continue north to Venlo where I crossed the river once more to begin the homeward leg of my journey.
After passing through the small town of Maasbree I made something of a navigational error which probably added about 20 km to the day's ride, but it wasn't really a problem and before long I was past Meijel and heading for home.
The total distance of yesterday's ride was 105.7 km which improves on my previous longest ride by just 500 metres & takes me to 1023.5 km, exceeding my original target for Cycling Down Dementia.
A really great day's cycling, largely on unfamiliar roads in warm, dry weather.