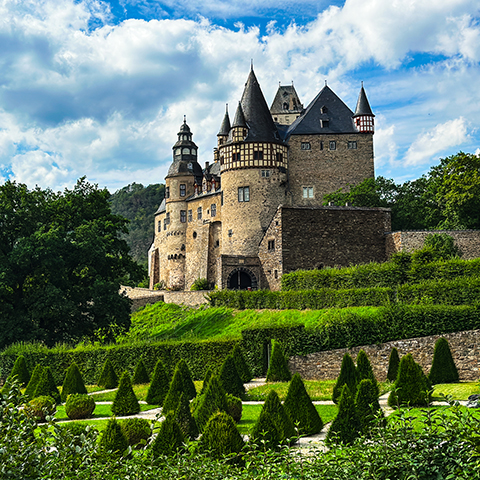 Today we returned from a fabulous 4 night stay at the Hotel Forsthaus at Volkesfeld in the heart of the Eifel National Park in Germany.
The Forsthaus is owned and managed by Christian Schlich and his family.
Christian is a long time friend from my motorcycling days, and between 2004 and 2006 I frequented the area.
I was mostly alone but also organised motorcycle tours for friends.
Overall I've stayed at the Forsthaus on at least a dozen different occasions.
It's a 145 km drive from Heerlen to Volkesfeld and we arrived mid-afternoon on Monday.
We took a scenic detour to take in the river Rhine at Remagen.
The rest of the afternoon passed quickly, catching up with Christian and sampling the house beer, Bitburger, my taste for which developed on previous visits.
We had a superb meal of authentic Spanish tapas, which Christian learned to prepare on his many visits to Spain over the years.
Christian very kindly upgraded us to a newly refurbished room, with a balcony facing west.
This meant evenings of watching the sun go down over the nearby mountains accompanied by a rather nice red wine.
After a hearty breakfast we spent most of Tuesday at the picturesque town of Cochem on the river Moselle and even took a tourist boat for a great one hour cruise.
The hotel restaurant is closed Tuesday and Wednesday evenings.
Therefore we had dinner at a nearby Italian restaurant on a nice terrace overlooking the Waldsee.
On Wednesday we toured the area by car and settled in the nearby town of Mayen for much needed ice cream.
It had been extremely hot and sunny since we arrived!
Before dinner I took a 1.8km walk through nearby forests.
In the evening we dined at another nice restaurant overlooking the Waldsee.
Thursday was spent along the Moselle once more, pausing at Alken for morning coffee and cake.
Our last evening meal was back at the Forsthaus, excellent food once again.
Friday was 'going home' day and the weather had turned bad with much overnight rain and even worse storms for much of the journey home.
For Ans this week was a totally new experience and for me a trip down a very long memory lane.
Apart from various necessary modernisations the hotel hasn't changed so much, the essential character, the peace and tranquility exactly as I remember from years ago.
Saying our goodbyes to Christian, soon to be a father again, it certainly occurred to me that it won't be another 17 years before I pass this way again.
From Heerlen it's within a day's cycling distance for me, so ideas are already formulating when this might be….maybe next spring would be a good time?
Thanks, Christian, for your generous hospitality….until the next time….
The featured image is of Schloss Burresheim, between Volkesfeld and Mayen.
There are many photographs from our time in Germany, including some taken by Ans as I drove the car.