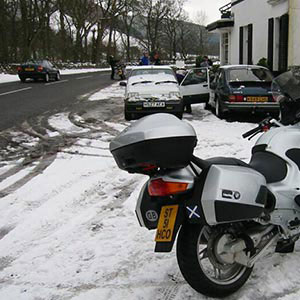 It can be a long winter up here in Scotland and if I waited for warm, dry, sunny days to go motorcycling, the opportunities would be a lot less frequent than I would like.
Being a 'fine weather motorcyclist' is not something I easily identify with, but bearing in mind that these leisure trips are non-essential travel I always try to balance the potential enjoyment with minimising the risk to my personal safety.
Today was one of those borderline days. Snow overnight, clear roads and temperatures just above zero; any sensible person would keep the 'bike safely locked in the garage and themselves safely in the warm house.
So, I left Edinburgh after breakfast for a nice spin around the Scottish border area just south of Edinburgh.
I got as far as the Crook Inn on the A701 at Tweedsmuir, near Biggar where I had planned to stop for coffee & cake.
To my surprise there was a group of unfamiliar motorcycles in the car park. Comforting to know I'm not the only one mad enough to be out on two wheels today, especially as I'd just passed an overturned car in the ditch, a reminder of the folly of driving/riding on icy roads.
There were actually quite a few motorcycles, many two-up (an indication that wives/partners/hangers-on are just as mad as the riders!).
Chatting to them I learned that they were just heading home after a week long CAMPING tour around the highlands of Scotland. Here's that word again:MAD!
Anyway they seemed like a nice bunch, very chatty as they prepared to head south to their homes in the Midlands, maybe 6-8 hours ride away.
Personally, this was my turning round point and I would be safely back at home within the hour, cleaning road salt from Big Sylvia.