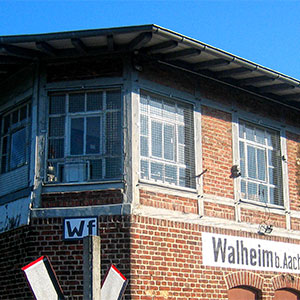 Sunday morning's early cycle ride was a 64 km loop around the perimeter of the German city of Aachen.
I left home just after 0600 and made great progress to the outskirts of Aachen before heading out into the hilly countryside to avoid the city centre.
At the village of Schmithof I joined the Vennbahn, a 125 km cycle route that runs from the centre of Aachen, through Belgium to the Luxembourg town of Troisvierges.
I've never heard of this cycleway before but immediately recognised the potential for an extended ride from Heerlen to Luxembourg in the near future!
Today's featured image is from a railway preservation site at the German village of Walheim, about 30 km from home.