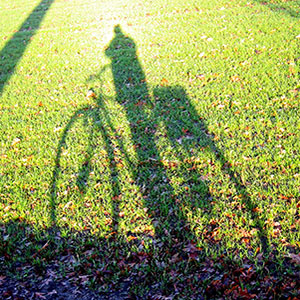 Yesterday's cycle ride was an epic 105.2 km, again exceeding my best daily distance since I started cycling again last April.
I ache all over this morning but my recovery time is getting shorter these days so I'll be out again over the weekend, no doubt.
The weather forecast was good and I had made my mind up the previous evening that I would have a long cycle ride the following day.
It was barely light when I left home and as I rode through the countryside there was a low lying mist with early morning sunshine breaking through.
At this time of the year the sun stays low, casting long and sometimes interesting shadows, some even resembling a cyclist resting in the warm sunshine.
My fitness app tells me I burned 2875 calories during the ride and in anticipation of this I had my usual breakfast of porridge with honey, and during the day consumed no fewer than four bananas, two cereal bars and four chunks of homemade energy bar (recipe on request!), washed down with 1.5 litres of water.
The last 5 km or so were particularly tough, there was just no power behind the pedal strokes and it was obvious to me that I was in calorie deficit.
Once home a decent meal and plenty of fluids soon put me right and this morning, as I write this, I'm keen to get out on the bike again over the weekend.
The route itself was interesting, taking me deep into Belgium for most of the day and I managed to take a few photos as usual.
Yesterday's four banana ride means that I now have only 197 km to cycle before the end of January to reach my 1000 km target for Cycling Down Dementia.
This one's for you Dad….X