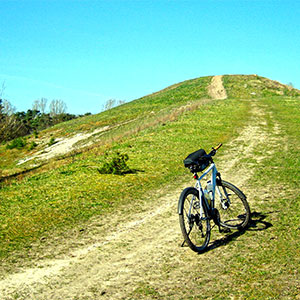 I enjoyed a fabulous 51 km cycle ride today in warm sunshine in South Limburg.
Much of the route was through deserted forests and along rural backroads.
My objective today was to explore Bovenmeer, near Schinveld, to the north of Heerlen.
I passed this way a few weeks ago but didn't stop so I was curious to find out what this sharp little hill was doing on the edge of the forest.
The hill is actually man-made, with the sand and rock spoils from the excavation of the nearby fishing ponds at Roode Beek some years ago.
I also cycled around these ponds on my ride today.
Bovenmeer is the name given to the artificial pond on the top of the hill, not visible from ground level but impressive as I sat alongside it for my snack this morning.
From the summit the views are stunning in every direction and well worth a few photographs.