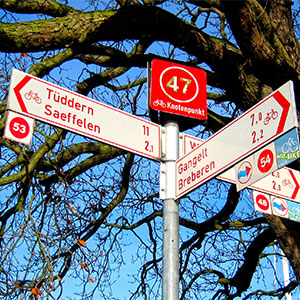 Today I had a great 107 km cycle ride into Germany.
I left home before 0800, before the sun had risen and encountered thick fog once I headed south into the countryside towards Belgium.
I made good time down to Maaseik, despite the persistent fog, and crossed the river Maas.
Once away from the water the fog gradually lifted but I ended up cycling over 40 km with lights on before it finally drifted away.
Approaching the halfway point of my ride at Braunsrath, I crossed into Germany for the second or third time in a short distance, such is the zig-zag nature of the border in this area.
On the minor country lanes not all borders are marked and it only becomes clear which country you are in with the change of road surface and the different vehicle registration plates.
Prior to the small village of Braunsrath I stopped for my first 'breakfast' break by a very old tree, apparently over 250 years old.
This is also the site of a numbered cycle junction post, similar to those common in the Netherlands, enabling simple navigation without the need for maps. Before I started navigating by GPS I planned my routes by writing down the junction numbers on a piece of paper and sticking it to the handlebars. Simple but effective.
This large, open area is also the highest elevation on my route today at around 70 metres above sea level and is home to a large scale windfarm generating electricity.
The sun is out now and cloudless blue skies accompany me for the return leg to Weert.
I really enjoyed today's ride, which was mainly on unfamiliar country lanes.