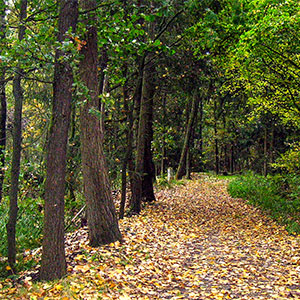 Autumn has been with us for over a month now so my 51 km cycle ride this morning was in search of some nice seasonal colours.
After about 32 km on paved roads and canal banks I entered the Grootbeek nature reserve just south of the border in Belgium.
From here I rode 5 km on un-paved forest tracks, strewn with fallen leaves and many muddy puddles filled by recent rain.
This particular track separates Grootbeek and another nature reserve, Hasselterbroek.
In some places the track was completely un-rideable, such was the size of some of the puddles (of unknown depth) and the slippery surrounding mud.
A couple of times I even had to resort to 'cyclo-cross' tactics and carry the bike on my shoulder through some of the worst terrain.
I really enjoy riding through this type of woodland and heath, it's so quiet and peaceful to be closely connected to nature for a while.
Back on the roads again, I made good progress north via Stramproy and back to Weert.
Recent increased Covid-19 restrictions mean cafes and coffee shops are closed indefinitely, both in Belgium and the Netherlands. Therefore I had to sadly forgo my usual coffee and cake stop on the homeward leg of the ride, but was rewarded with still warm apple cake with cream when I got home.