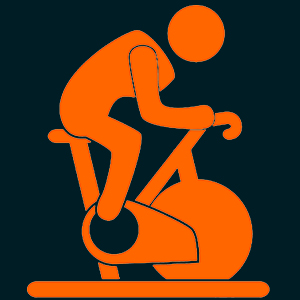 November's outdoor cycling activities were non-existent  due to continuing extreme weather conditions in South Limburg.
However, this has not stopped me accumulating 536 km on my recently acquired indoor spinning bike.
I completed 18 daily sessions, each of one hour duration apart from two 30 minute sessions.
The spinning bike is fitted with a Wahoo speed sensor which can also determine the equivalent distance travelled.
Also fitted is the Wahoo cadence sensor which determines the number of pedal crank revolutions.
I wear a Polar chest strap ECG heart rate monitor when exercising.
All data is processed via my Polar fitness app and the Ride with GPS app.
The greatest distance recorded in one hour was 34.30 km and my highest average heartbeat over one hour was 123 bpm.
It differs considerably from cycling outdoors in that the spinning is a continuous effort for one hour.
The effort required when cycling outdoors is constantly variable.
This months indoor cycling sessions can be viewed here.
Cycling indoors is nowhere near as much fun as the real thing but I'm feeling the exercise benefit each day.
Hopefully I'll be in reasonable condition once the weather allows me to venture out again.