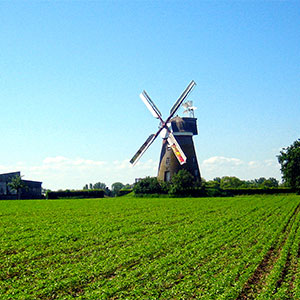 Another early departure for this morning's great 69 km ride to the north of Heerlen.
High temperatures were forecast and I wanted to be home again before it became too hot.
By the time I returned it was over 26c degrees and I had consumed over two litres of fluids to keep myself well hydrated.
The real highlight of today's ride was the 6 km excursion through the spectacular forests of Teverener Heide, just over the border in Germany.
There are many cycle tracks and walkways to explore and motor vehicles are excluded so all you can hear are the birds and trees moving in the gentle breeze.
As it's so close to home, I am sure to return.
The majority of today's photographs are from this picturesque and peaceful area.
Today's featured image was taken a little further along my route today, near the German village of Breberen.
This is an old windmill on a ridge of high ground, in line with the modern equivalent, wind turbines generating electricity.