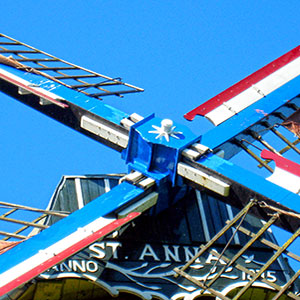 There is something truly magnificent about Dutch windmills, especially if they are in working order and have their sails turning.
Cycling along Tungeler Dorpsstraat in Tungelroy at around 10 o'clock this morning, I was pleasantly surprised to see 'St Anna' turning it's sails in the fresh morning breeze, against cloudless blue sky.
Standing close to this grain mill, built in 1875, I could feel the rush of air as each sail swept by, just a few metres away.
I could also hear the rumble of the stone mill wheels turning against each other inside the brick tower.
Other highlights of today's 48.8 km cycle ride were the woodland tracks through Tungelerwallen, Laurabossen & Weerterbos as well as the busy canals near Weert.